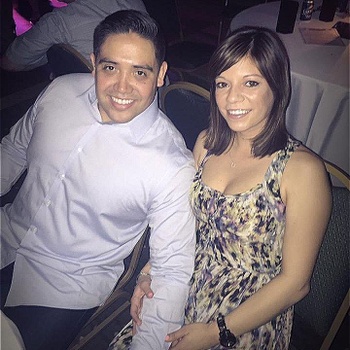 Leo and I met back in our college days in San Antonio, Texas through mutual friends. We were mainly just acquaintances, but little did we know that we would someday end up falling in love and getting married! We found each other again when we least expected it. I was living in Dallas attending TWU for graduate school.  At the time, I swore I would NEVER move back to San Antonio. I was definitely wrong about that one.

    My sister Jordan showed me this application named Snapchat in 2014 that everyone was using. It looked like a lot of fun so I instantly downloaded it. At the time, I had very few friends on it and Leo happened to be one of them. His snapchats had me laughing so hard everyday! At the time, he was unemployed and clearly had a LOT of time on his hands to make these funny videos. One day around April 2014, I messaged him through the app and said, "OMG Leo, you're hilarious". From there, we went back and forth with the "chatting".

    The next thing you know, my birthday was coming up in May and I had plans to meet my family in San Antonio since that was the midpoint in between Dallas and Brownsville (where my parents live). On Friday , May 9th, 2014, I went to eat with my parents and sister Jordan at a steakhouse. After dinner, my parents wanted to go back to the hotel, but my sister and I wanted to continue celebrating. All my girlfriends were unavailable and I couldn't think of anyone else to call. All of sudden, a thought popped in my mind! I told my sister, "I know who to call, my friend Leo is always out". Sure enough I called Leo who picked up on the FIRST ring. He said, "My friend Rocky and I will be at Thirsty Horse, come meet us". So we did! We ended up having a great time that night. We hung out again on Saturday night. 

    I left back to Dallas on Sunday, but we continued texting, snap chatting, and talking on the phone. The next thing you know I came back on another weekend and Leo took me out for dinner. It wasn't long before Leo asked if he could come visit me in Dallas. From that point, we began traveling back and forth in between Dallas and San Antonio.

     We finally made our relationship official August 12, 2014. After I graduated from TWU in May 2015, I came to San Antonio to spend some time with Leo and enjoy being done with school. However, he was working so I was really bored. I started applying for jobs and got an interview and job offer within the 1st week after graduation. So..........Never say NEVER, I moved back to San Antonio after all. I moved into his home, yes I'm a sinner! But aren't we all? I turned his dusty old bachelor pad into a clean, decorated, warm, and welcoming home!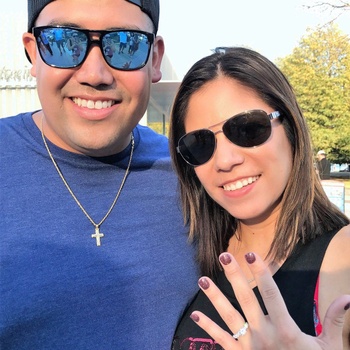 Leo proposed to me on 09/23/17 in the beautiful city of Chicago, Illinois! We were in town to catch a Steelers/Bears game with my family and our good friends Miguel & Keri.  We decided to check out the Navy Pier as it was a beautiful day. We enjoyed some drinks at the famous Harry Caray's Tavern and spontaneously decided to take the architectural river cruise.  It was one of the best tours I've ever been on. We got to see all the beautiful buildings that make up the Chicago skyline up close and personal. We were all enjoying the breeze since Chicago was experiencing a "heat wave" that particular weekend!

As the tour was wrapping up, people started to walk off the boat. I asked my sister to accompany me to the bathroom on the back of the boat before we left. My sister went with me but then rushed out and said , "I'll wait for you outside". So I walked out and Leo was sitting on a bench directly in my sight. I said, "What are you doing?" He said, "My knee hurts." I said, "What's wrong? Did you bang it on the corner of the bench or something?" He said, "No." I was confused! And then he dropped down on his knee with a big smile on his face and said, "Will you marry me?" I was in complete shock! I couldn't even respond. Finally, I said "Yes" and we laughed, hugged, and kissed! That's when I realized everyone was coming out of hiding on the other side of the boat recording! It may seem cheesy to everyone else, but Leo is always making me laugh so the way he did it was perfect and fitting. I'm glad our family and close friends were all there with me to celebrate.